NSTA 2017 was in Los Angeles and oh boy, it was a hit. I will attempt to highlight some of my favorite sessions below. My focus this year was primarily on assessment. I really wanted to find good resources for how to ensure we know how to assess our students fairly as we begin to implement NGSS in the classroom.
This was my first session I attended this year. Kevin Anderson (Wisconsin Science Education Consultant) @wisdpiscience led us on a short journey to discuss what a system of NGSS assessment might look like for a school: formative, summative, benchmark, other elements. He stressed the need to make sure that assessment ties back to our vision. We did a fun activity where we had to take data and generate a model from it.
I totally love my model. HEHEHEHEHE
He shared with us an idea of competency based grading and shared about the next generation storylines that help teachers bundle performance expectations and put them into a coherent progression for student learning. SUPER COOL! Kevin told us that rubrics are a learning progression and should NOT have the terms like NEVER, SOME, or ALWAYS. I will have to go back and look at the rubrics I have created.
Kevin has a blog, which I will now be following, and he shared one in which he wrote about using students surveys as an assessment piece. I have linked that one HERE.
Overall, Kevin's session was really awesome and was the perfect way to start NSTA 2017.
I have been looking for an electrophoresis system that might be useful for teachers in my district. When I say useful I mean: user friendly, quick, not a lot of setup, no dangerous chemicals, not dangerous to students, etc. What I found with the miniOne system is that this system is AWESOME! If I was teaching biology, I would want this simple set up in my class. We poured, loaded and ran a gel in sixty minute session. INCREDIBLE!!!!!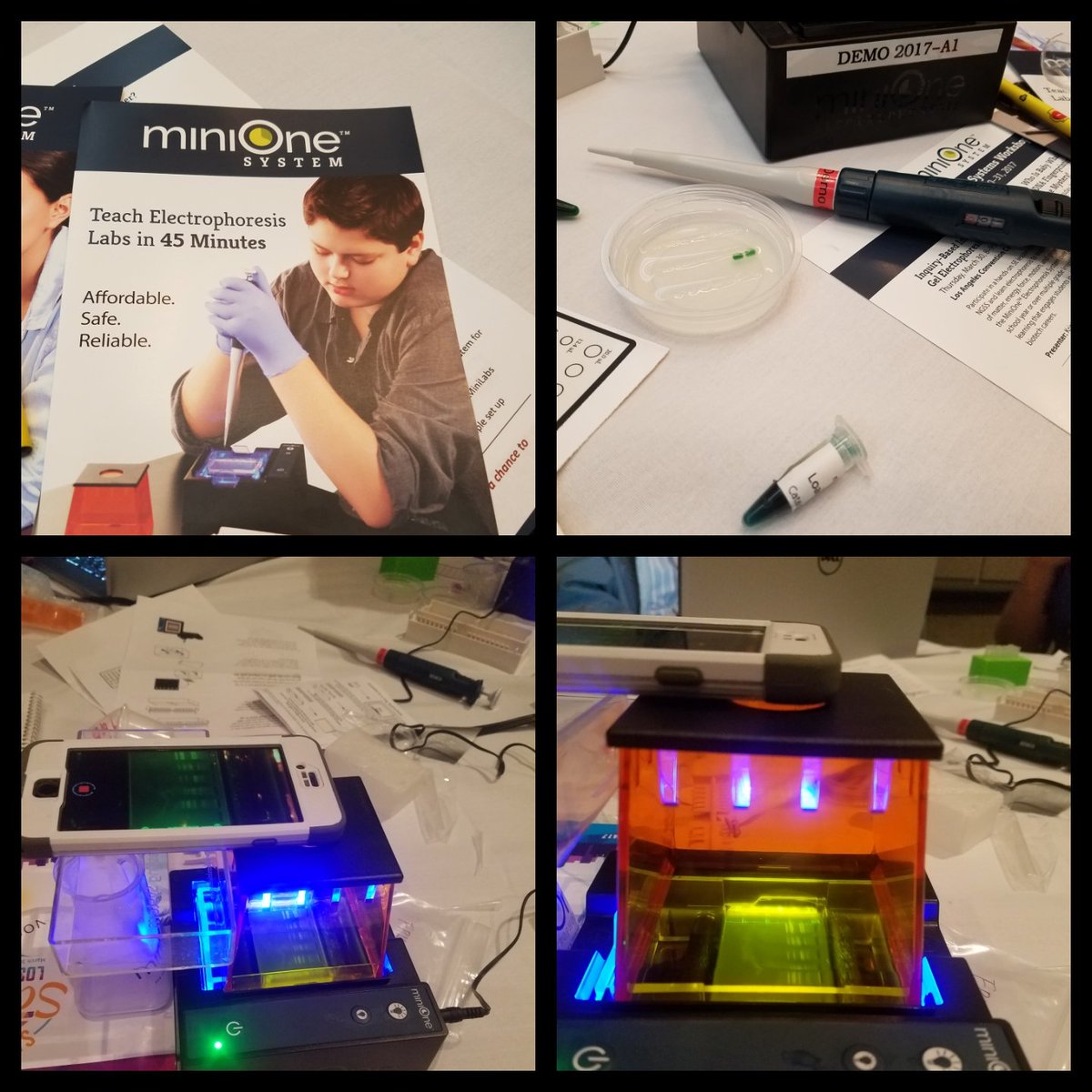 Classroom Assessment and the NGSS
Heidi Schweingruber did a great job of sharing with us what assessment could look like in the NGSS classroom: multiple components, progressive nature of learning, include an interpretive system for evaluating a range of students products. There is a new book, Seeing Students Learn Science, published by the National Academies Press. You can download the pdf for free at the link!!!! I'm so gonna read this bad boy. THANKS HEIDI!
Admittedly, crosscutting concepts are an area I struggle with. I know what they are and I know they are important, but I've been struggling as a teacher to see HOW they can be used. Thus, I really wanted to go to this session. And Peter A'Hearn rocked it!!!! He showed us how you can kinda categorize the CCC.
He gave us this quote from Henri Poincare:
Science is built up of facts, as a house is with stones. But a collection of facts is no more a science than a heap of stones is a house.
We know that CCC are how scientists think but Peter led us to realize that

crosscutting concepts set up the CONTEXT for HOW scientists ask the right questions.

We could design questions for our students OR we could show our students and have them ask questions based on the CCC. AWESOME! Peter has a website where he has free handouts and posters for CCC to be used in the classroom.
THANK YOU PETER!!!! Amazing session.
Leena Bakshi, EdD (
@leena219) and
Mena Parmar (
@menaparmar) had an energetic session on getting gets talking in the science classroom. They provided us with some fun strategies, having us practice them.
Though they were all excellent ideas, I think I really enjoyed the think-pair-share with a twist. They had think-write-pair-write-share-write. REALLY like this!
Thanks ladies!!!! Very fun and great way to end the day!
CHALLENGE BASED LEARNING UNITS INCORPORATING ENGINEERING DESIGN
David Vernot with the University of Cincinnati shared with us a searchable database of Science and Math Engineering Project. Can't wait to go through this to find amazing projects for ours students to experience. Woohoo! Thanks David...you just made my search for engineering so much easier.
I led a session this year on science vs engineering, explaining how they are similar and different and how they fit into the classroom. I was super excited to see a decent amount of people show for this 8:30 am session and super pumped to be able to share this at the National conference. WOOT!!!! I've written this blog before for those who are interested.
Grading in a 3 Dimensional Classroom
Jim Clark (@sci_innovations) and Samantha Johnson rocked this session. They had us evaluate the purpose of grades, digging into what is a formative vs summative assessments. They shared this idea of a chef cooking a meal and as they cook they taste to make sure they are on the right track (formative) but once they have finished the dish they serve it for the guests to enjoy (summative). LOVE THIS ANALOGY.
They suggested competency based grading using the scale. They explained that even though they grade everything on a 1-4 scale, the only grade that really counts is the summative assessment in the end. In theory, if the formative assessments do their jobs and there is learning progression, a student will be able to show mastery of the content in the end.
In the end Jim and Samantha said that whatever grading system we use, it CANNOT cancel out hope. I couldn't agree more. Great stuff!!!
ADVANCED STUDENT THINKING THROUGH INTERACTIVE NOTEBOOKS with NGSS
Jennifer Weibert did an excellent job sharing with us how to use interactive notebooks in an NGSS class. She indicated there are three things that must be present for students to learn using their notebook:

COLOR, PICTURES, TEXT.

YES!!!!!
She showed us some student exemplars and they were really nice. She stressed the need for students to have the same assignment on the same page in their notebook and this is for the purposes of ease of grading. This would be the only thing I would consider doing different...because sometimes kids just need more space and if they have a table of contents then you can identify where that material is located.
She also shared that if you start your unit with a phenomena, they can do this really cool strategy of building meaning around the essential questions of the unit. They put those questions in the center of the page in a light bulb, and as they start building knowledge to answer those questions they add it to that page citing where in their notebook they found that information (kinda like a giant concept map). I absolutely LOVE this idea!!!!
I did another workshop with some of my amazing coworkers on HOW WE MADE our FIRST NGSS CLASS. It was a hit and I loved sharing our work with other teachers. I am so spoiled to work with such an incredible group of dedicated educators.
From another session I picked up little tidbit that made my day. It was the ACT college readiness standards. Basically, it is the evidence I need to show teachers when they ask, "How do we know if NGSS will prepare kids for college?" An amazing find!!!!
I went to a bunch of other amazing sessions, but to write about all of them would take me all night, and I am now officially tired. The guys from San Francisco Unified....and your water bottle flip phenomena....LOVED IT! SFUSD has got it together!
I got to hang out with Exploratorium Teacher Institute Team. If you are a teacher and haven't check them out, then you are truly missing out. I want to be like these science rock stars when I grow up!!!!! They have figured out how to deliver phenomena in spades. If you go the NSTA Conference site, make sure you pull up the resources from their sessions. Lori, Zeke, Erik, Tammy and Julie....y'all are my science heroes!
I want to thank NSTA for putting on a great conference and thank all the presenters for the dedication to science education and students. If my colleagues were unwilling to share, I would not be able to learn from them.
NSTA
was amazing this year. I got to meet a lot new people, hang out with old friends and coworkers, LEARN a bunch of new strategies, engage in amazing experiences and for the first time, present at the NATIONAL conference. NSTA 17 will go down in history for me as AWESOME-SAUCE.